Give up your voice for kids who can't speak
On 18 September 2019, leaders in business, community, and government will give up their voice, and spend a day in silence to help change the lives of kids living with communication challenges. You can be the difference in a child's life by supporting them and helping them find their voice. Help today by signing up, nominating a CEO or donating to Variety Silence the CEO.
As well as staying silent for the day, participants will raise funds to go towards enriching the lives of kids who are sick, disadvantaged or living with disability – including WA kids with communication difficulties.
Variety provides support to children through assistive technology grants and our Variety Motor Mouth Program, a holiday camp aimed at assisting children who have limited speech and rely on augmentative and alternative communication (AAC) aids to give them a voice.
Watch the video below to learn more...
What it's like to be a leader without a voice...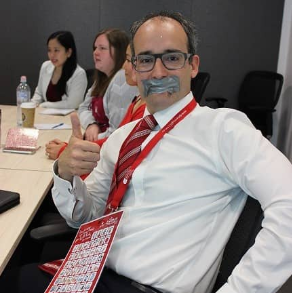 Kim Radalj, General Manager of Strategy & Development
First-time Silence the CEO participant, Kim (pictured left) found the experience both challenging and eye-opening, not being able to talk for the day and putting himself in the shoes of kids who can't verbally communicate.
Michael Smith, Chairman of 7-Eleven Australia, Starbucks Australia, Lionel Samson Sadliers Group and Pioneer Credit | Deputy Chairman of Automotive Holdings Group | Principal of Black House | Patron of Variety WA
Whilst challenging, Michael found that his day of silence put into perspective how much we take our communication skills for granted, and what a comparatively small sacrifice it is to give up your voice for just one day.
"It was hard, very hard, getting through a typical day without speaking. It's inspiring to see how well many children, and their families and loved ones, manage with this and other genuinely challenging circumstances. This little insight gives me a renewed appreciation of the need to help our children." - Michael Smith
Tony Hume, CEO of Variety WA
Variety WA's own CEO took part in Silence the CEO, much to the amusement of Variety WA staff members - especially when he attempted the various challenges, like ordering a coffee and leading a strategy meeting.
Contact
For more information please contact Katie O'Donnell
P: 08 9355 3655 | M: 0414 754 462 | E: katie.odonnell@varietywa.org.au